Cheesie Hall of Fame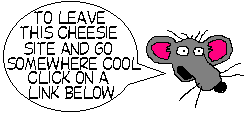 Award Winners; All descriptions contained here were written by the Page Authors, in red is my own comment
We now have over 60 award winners!!!!
Diablo's Corner Calvin & Hobbes, South Park and more!!!
Diablo's Kinda Kool South Park Page Sounds, Pictures, Links and more!!
Zack's Pages of Many Things Chat Backdoors, Web Site promotion pages, Free Images, "New Earthlink" and "Best of Bass" Ring Home
The Scott's (Brian's Entertainment) South Park, Simpsons, Sounds, Dancing Baby!
The Realms of Fantasy Web Page 100's of wav files, avi files, mpg files, mov files, and other cool things...

VorpahL's SoutH ParK !!!!! Way Cool matter of fact it is just too Sweet!!

tydean 's Home Page Its pretty cool !!!!

qball's South Park Page This site has pics,sounds,psychic Cartman, what Kenny says, voting booth,quizes, as well as the rest of your South Park needs.(This is a great South Park Page!!!)

FREE Web Resources (free home pages, counters, guestbooks, email, banners, url) Free Web Resources for Webmasters -- Free homepages, freestuff, e-mail, virtual url, guestbooks, banners, counters, trackers, chat, graphics, money for your site and more...

Web - Grafx A collection of free backgrounds, and background sets created by me.(A good site, check it out!)

Damien Hobbin's Homepage Damien explains all about the QUT Experimental Rocket System (One on his projects while at Uni) I think this is a great page, and the shockwave is fantastic (Awesome site, you gotta check dis one out!)

My Front Porch Southern cooking,humor,Southern living,mountains memories,good links,tons of good stuff! (Great down-home southern site, check it out!)

Zeely1's Home Page It is really cool, and has many things that I have worked long and haard to find.(An up and coming page, take a look!)

This is a web page It's a cool site.(The title says it all!)

Pyro Graphic design and chat (An interesting site, take a look)

*Hanson Hideout* A Hanson page that features Hanson fans' creative sides!(For all those Hanson Fans out there, Take a look! A well designed page!)

A Page of Honest opinions on Hanson A Hanson page with VERY honest opinions.(Another Hanson site, Very well designed, check it!)

Angel's Playground A place to get together for some good, old fashioned, innocent fun. Puzzles, graphics, virtual greetings and more (Interesting and fun, GO THERE!)

Welcome To Vivek's Web Site! The hottest technologies on the web including ActiveX, Java, Shockwave, and VRML.
(Great tech. site!)

Welcome to the Cheesie Cow Just a fun site. Has free shutdownscreen and animated cursors..cute! (Cheesie Baby! Way Cheesie!!)

Elesha's Page Links to games-graphics-music. Quizlets-info-news. (Be there or be square)

Deceit My personal homepage that contains several stories of mine, graphics I designed and interests. (Pretty cool, go there and see for yourself!)

Kyle's Korner FREE Webpage Resources (Lots of cool stuff!!)

MSK's - Promote Your Site Today! Free! Free promotional links. FFA's,Banner exchanges,ads,services,awards,ect.(an excellant source for website promotion!)

South Park Guitar Central Includes South Park Tabs, Lyrics, Secrets, and more! (South Park Kicks ASS--check it!)

sOuTh PaRk BaRn It has a chatroom, a poll, news, links, The SP Mysteries, Hisoty, and More.(CAN'T go wrong with SOUTH PARK!!!)

Home of the Green Bay Packers A Packers Site! (A very well designed site. Football is always cool.)

KILLAHS SOUTHPARK PAGE A REALLY COOL SOUTHPARK PAGE (As I said before...YOU CANNOT GO WRONG WITH SOUTH PARK!!)

South Park and Us It is a Page about South Park with Gifs and Banners and a Poll to vote for your favorite character on. And the site is being updated everyday (South Park Again? Damn skippy. SP kicks ass!)

Magtone's home page A home page that can find links to sports and some software sites (Provacative, eh?)

Welcome to the Skatehouse Basically skateboarding,lots of pics, music reviews,ramp plans,music reviews, video clips,animations,and music reviews (Very diverse site, check it out!)

Susie's Stuff Iowa homepage with many interests, genealogy,crafts,outdoors, animals,free stuff and much more! (Pretty damn cool!)

The SouthPark MiX A awsome page about SouthPark (What can i say....South Park RULES baby!!)

Curtis's south park page A south park site with pics sounds and tons more south park crap (See Above.. ;)

Marvel Superheroes and X-Men This site is the coolest site we've ever been to. (ok.........? ah........)

Greg's Home Page A personal home page with Clinton jokes, funny bumper stickers and much more!!! (Go see it!)

Chris Barnes' Website A site with game cheats, Nick Abbot & radio stuff and more! (Go check it out!)

Health 4 Life Nutritional supplements for the entire family. Earn an extra income from home. (if your healthy and you know it clap your hands....If your healthy and you know it.....)

Whitelegg Home Page Download Great screen savers, Amiga Music, Kobra Mud. (A very worthy site, check it out!)

DIABLO 83'S SOUTH PARK SITE!! A variety of south park facts , pics and links. (It's South Park damnit, go there!)

John's Gran Turismo and Playstation Tips and Tricks Playstation, South Park, Lacrosse (Intrigued? Best take a look!)

Aznck82's Homepage! Pochacco (An interesting site for an interesting character)

Welcome to my music place W.A.Mozart, J.S.Bach, the opera "Madame Butterfly", join a webring, me, my home city and more (A great music site!)

Elvis Killed Kennedy!!!!! At long last the truth behind the greatest criminal conspiracy of the twentieth century (and there's been a lot of them, folks) can be told. A shocking and scandalous exposÚ of KGB machinations, Cold War Mata Haries, hunka hunka burning hate, adulterous hanky-panky, and the events of that tragic day in Dallas.(Whew..Thats a mouthfull :)

Linkaholics Promote your Site's Presence here for Free & access a database of Free Resources to Improve your Site! (Good website resourses)

Jason's New Orleans Saints Page An unofficial page dedicated to the New Orleans Saints with News Photos and Information. (A great football fan site)

The Pages of Vagueness Feel free to browse around and criticise...(That seems kinda....vague?)

Sharon's Choice Casinos & Freebies Casinos,games,free penny keno,tournaments and much more clean fun!(Internet gambling at it's best)

Packer Backer from Downunder An Australian fan page celebrating Reggie White and the mighty Green Bay Packers (Maybe he knows that Crocodile Hunter guy, better go see)

WorldLight.com Internet┤s newest and fastest growing search-engine !! (A great new search engine, wanna find something? go here!)

skip's classic truck Restoration of a 1949 chevy (In to classic trucks? go here!)

Frogprince's pond Supercool under big construction (After awhile..disregard the 'under big construction' part)

Jason's South Park Petting Zoo Tons of Pics Sound origanality and lastly humor (It's South Park damnit..go look!!)

Tyger's Coffee Shop A silly site about the customers of the coffee shop where I work. Not a commerical site. I am an underpaid employee. But I like doing web pages. The owner has not even seen the page. (Pretty cool)

The MacMINT Asylum The Methos Institution for Neurotic Tipplers is a highland clan dedicated to Methos, the worlds oldest Immortal on Highlander: The Series. People insane over Methos institutionalize themselves and are given their own padded cell. The site includes a history, a song and logo, Methos links, a Methos obsession test, Methos quotes, Methos fanfic, Methos pictures, and more. (Aye laddie, a great Highlander site, ya canna doo better than this)
Sc0r3 homepage fun and nonsense (2 of my favorite things)
Rachel's Reflections Violets, poodles, opinions and a forum! (A very personal Homepage)
Her Highness, Princess Sheena My page is basically just a colorful splash of this and that, a random realization here and a senseless thought there. (Senselessness is pretty cool)
Sunshine's Sundeck Want to visit a personal homepage filled with variety? Lots of things to see and hear?? Well come visit Sunshine's Sundeck! Featuring PASSIONATE POEMS (audio reciting by the author --- SUNSHINE herself) ... see ya on the deck!! (Another very personal Hompepage check it out)
ROXMOR the Official Homepage Web Site of Pennsylvania Rock Band. (ROCK n ROLL, ya puke!!)
Sweepstakes, Web Hosting, and other FREE Offers! : All 4 FREE necessary household items, free sweepstakes entries, free offers, web hosting money makers! (Free stuff is cool)
The Laurence Experience Generally Cool (That about says it)
Cynthia's Web Page! My favorite things such as ~angels~ and Disney! (Mickey IS a religion)
Rhonda's Realm This site is my personal page. It features some of the photos that I've taken and some of my favorite links and personal info (A personal website, take a look)
Rick255's HomePage Humorous, kids page, family approved (A fine and wholesome page)
Uruguay Website about Uruguay, small south american country, sure, natural, and ecologic.(A great International site)
Tish_Toc Photos Photos and More photos. it is really cool. (A site with photos, check it out)
The Godfather's Ponderosa Page A humorous site that mocks and reveals secrets about the webmaster's former place of employment. (LOL..don't think I'll eat at this place)
MunkyBite FREE custom 3D imagery I make free 3d backgrounds and images for people who link to me/be nice :o) (A cool free service, check it out!)
ELISABETH LYSNES A family/personal site! (very well designed)
The Blake Ells Universe movie and music reviews, fun stuff, funNY stuff, great links (Kinda Kool, take a look)
Awesome & Useful Links Awesome & Useful Links contains links to awesome sites on the Internet, jokes, and other cool stuff. (Link-o-rama)
*~Aimee's Site~* It's COOL, GREAT, and FANTASTIC! It has a lot of cool things that's people love! (Yeah baby, YEAH!)
South Park Paradise Everything about South Park!!! (BEEFCAKE!!!!!!!!!!)
The ultimate south park page coool (My Uncle says that smokin' crack is kinda coool)
Asgher's NFL Blitz NFL News, results, standings, schedules and much more. (Foootbol have been b'ery b'ery guut to me)
---
Back to the Award center